[This is an excerpt from the chapter "2011 – 2020: Review of a Decade of Hindi Film Music" from the e-book BollySwar: 2011 – 2020.]
The Hindi film industry had tried to come up with new ways of mass-producing hit songs ever since the 1990s. In the 1990s, they experimented with Jhankaar Beats and in the 2000s with remixes. The objective of both these strategies was to leverage film songs to produce dance numbers. Plagiarism became a mainstream trend during this period as the industry tried to overcome the constraints placed by the finite amount of creativity available to it. Studio recordings, that had started giving way to digitally mixed and produced songs in the 2000s, became a thing of the past in the 2010s. Songs were now produced by assembling voice and instrumental recordings with music samples and programmed beats and loops. The trend of recreated songs in the 2010s was a part of this larger phenomenon. As the decade progressed, canned remixes fell out of favour and cover versions of previously recorded songs gained popularity.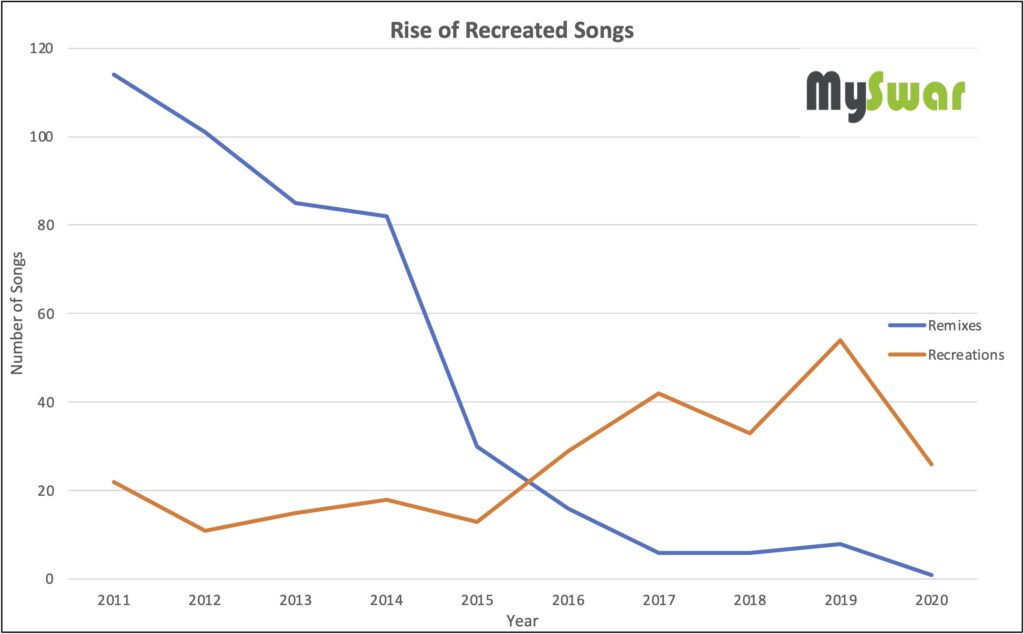 The terms remix, recreations and covers are often used interchangeably. In this section, we will use the term remix only to refer to the process of mixing an existing recording with newly produced music, usually electronic music. Let's define some terms precisely:

The decade produced more than 250 recreated songs – over 3 percent of all the Hindi film songs recorded during the period. The trend of recreated songs saw an uptick in 2016 and rose steadily after that. It peaked in 2019 with over 50 recreated songs – almost 8 percent of the songs recorded that year. The label and producers of "Luka Chuppi" (2019) went all the way. All five songs in the film were recreations – 1 of a Hindi film song, 1 of a Hindi non-film single, and 3 of hit Punjabi songs. The Filmfare Award for Best Music Album for "Gully Boy" (2019), a film with 5 recreated songs, was another indicator of the industry's acceptance of this phenomenon. The trend's dip in 2020 was perhaps the result of fewer film and music releases following the COVID-19 pandemic.
Covers formed the bulk of recreated songs and came in many flavours. Conventional cover songs retained the tune and lyrics of the original song and differed only in the treatment. Mikey McCleary's "Khoya Khoya Chand (The Bartender Mix)" ("Shaitan", 2011) re-imagined S.D. Burman's classic from "Kala Bazar" (1960) while retaining its essence. However, such covers were exceptions in the 2010s. The most common cover version took only the tune and lyrics of its hook line from the original song – the rest was newly created. Chirantan Bhatt's "Har Kisi Ko Nahin Milta" ("Boss", 2013), for example, used the mukhda of Kalyanji – Anandji and Indeevar's original song from "Janbaaz" (1986) as its hook line but had newly written lyrics by Manoj Yadav for its antaras.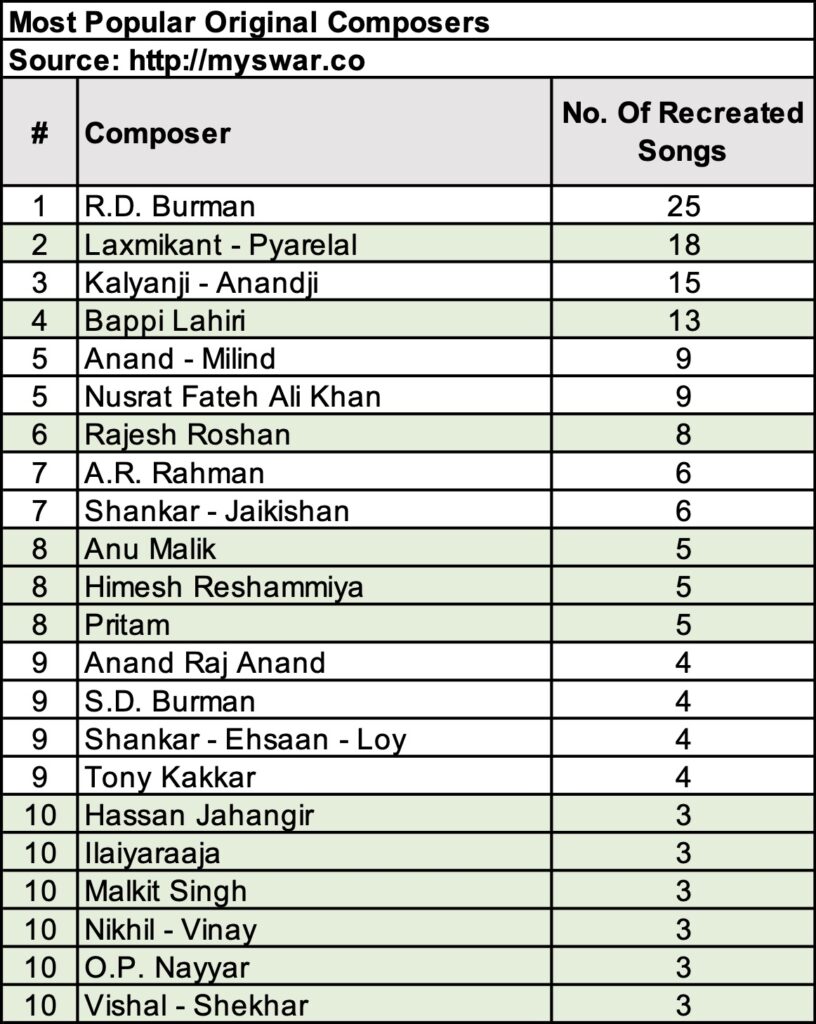 An analysis of the original versions of recreated songs revealed that R.D. Burman continued to remain one of the most influential yesteryear composers in the industry. 25 recreated songs produced in the 2010s were based on R.D. Burman songs. He was followed by Laxmikant – Pyarelal with 18 recreated songs, Kalyanji – Anandji with 15, Bappi Lahiri with 13, and Nusrat Fateh Ali Khan and Anand – Milind with 9 each.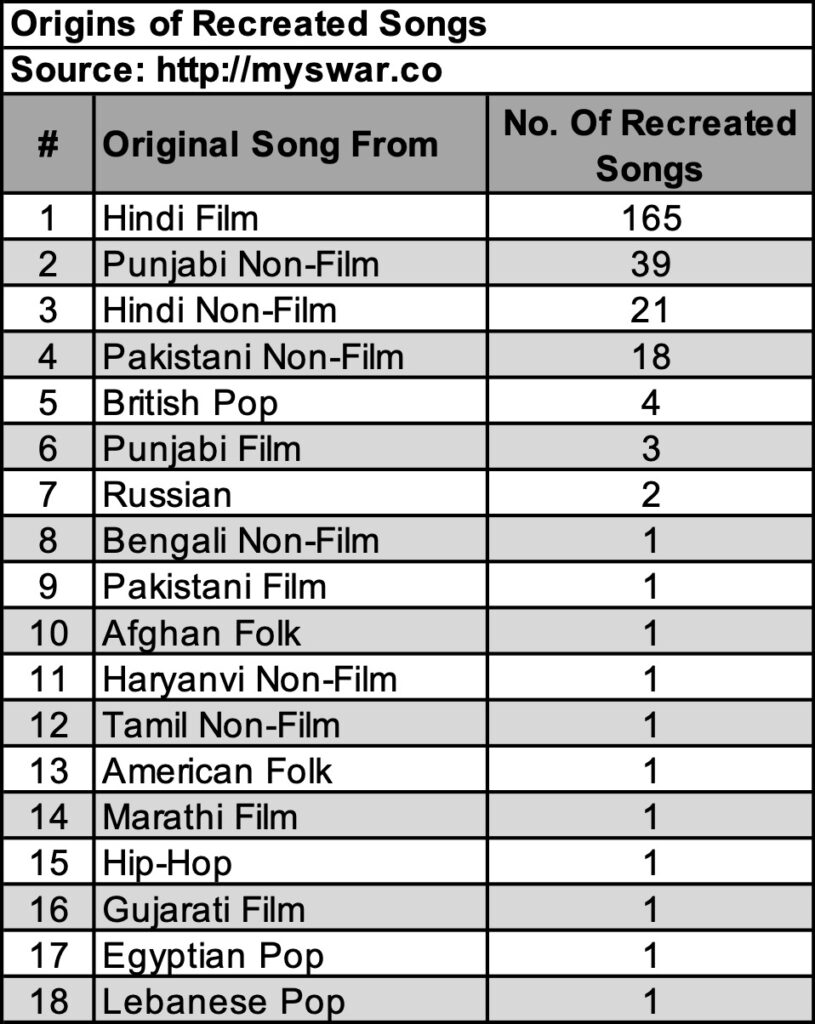 As expected, a vast majority of recreated songs – more than 60 percent – used Hindi film songs of the past as their source material. In the second half of the decade, Punjabi non-film music also became a favourite hunting ground of music labels and producers. Around 15 percent of the recreated songs were sourced from popular Punjabi artists like Malkit Singh, Sukhbir, Dr. Zeus, Guru Randhawa, Garry Sandhu, and Badshah among others. Hindi and Pakistani non-film songs were other significant starting points of recreated songs.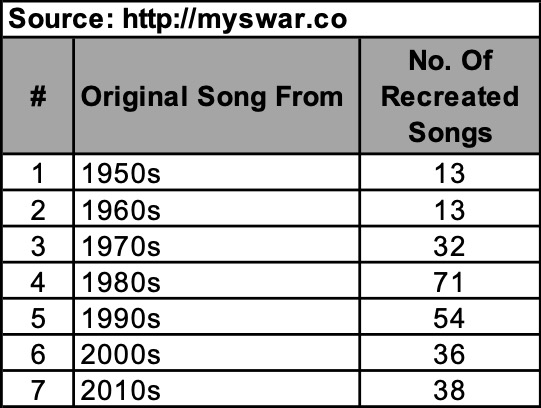 Recreated songs derived inspiration from almost every decade of Hindi film history but seemed to be most partial to the songs of the 1980s and 1990s. Together, these two decades were represented in about half the recreated songs recorded between 2011 and 2020.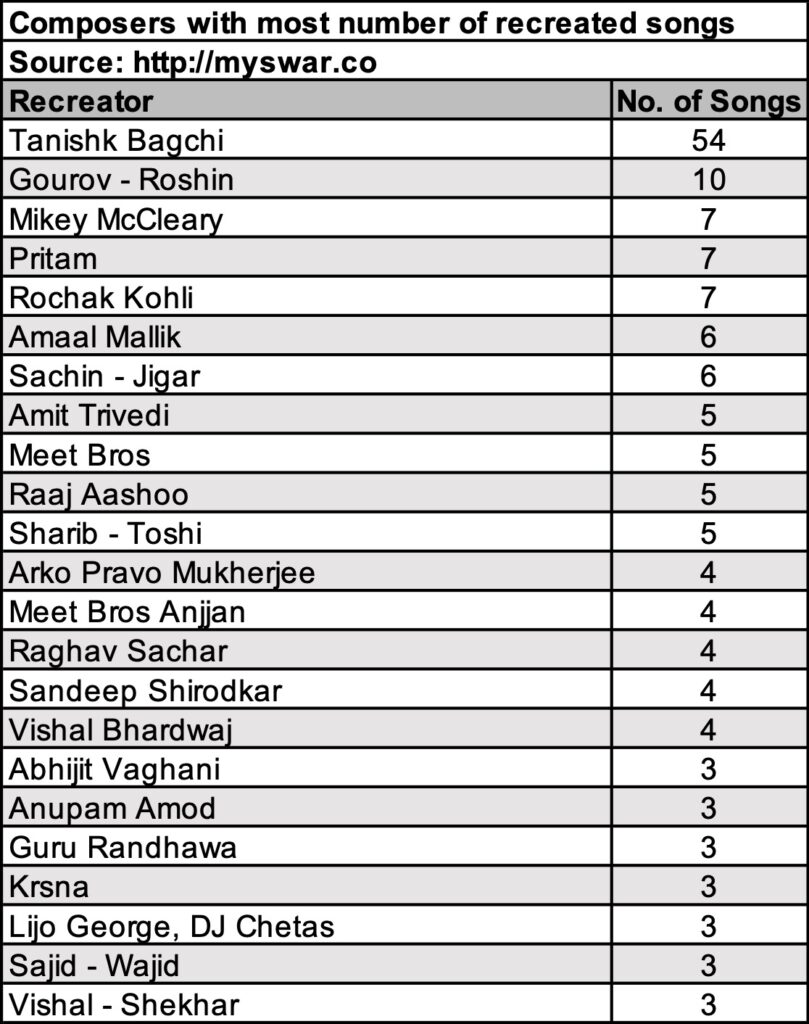 More than a hundred music directors produced recreated songs during the decade but there was none as prolific as Tanishk Bagchi. With more than 50 recreated songs to his credit, he contributed to about 20 percent of all the songs in this genre. He was so prolific in this niche that he had only a dozen more original compositions than recreated songs to his credit. His credential as the go-to composer for recreated songs catapulted Bagchi to becoming one of the most discussed Hindi film artists of the decade, although it was often in unflattering terms. He ended the decade as one of the top 10 most prolific Hindi film composers.
The rise in the number of recreated songs resulted in a spurt of copyright infringement lawsuits. There were legal cases filed over "Pyar Mein Dil Pe Maar De Goli" ("Tamanchey", 2014), "Bhar Do Jholi Meri Ya Muhammad" ("Bajrangi Bhaijaan", 2015), "Pichhe Ho Ja Soniye Saaddi Rail Gaddi Aayi" ("Tutak Tutak Tutiya", 2016), "Tu Cheez Badi Hai Mast Mast" ("Machine", 2017), and "Amma Dekh Dekh Dekh Tera Munda Bigda Jaye" ("Nawabzaade", 2018) among others. Some cases were settled out of court and others resulted in the withdrawal of the songs from the films and music albums. The lawsuits pushed the music labels to use songs from their own catalogue for recreations. When a song from a different label was used, the recreated version was often released as a single by the other label. For example, while "Queen" (2014) was released by T-Series, the sampled cover in the film "Hungama Ho Gaya (Remix)" was published separately by Saregama.
The trend of recreated songs polarised the Hindi film industry in more than one way. The phenomenon was universally condemned by the artists. After Tanishk Bagchi recorded "O Saki Saki Re" ("Batla House", 2019)based on Vishal – Shekhar's "Saaki (Psychedelic Insomnia Mix)" ("Musafir", 2004), Vishal Dadlani threatened to sue filmmakers and musicians if their songs were used without their permission going forward. Pritam walked out of "Raabta" (2017) when T-Series insisted on including in the film a recreated version of a song composed by another music director. Ram Sampath quit working for Hindi films altogether after "Raees" (2017) for which he was forced to record a recreated version of Kalyanji – Anandji's "Laila O Laila" ("Qurbani", 1980). The voices against recreated songs attained crescendo when Tanishk Bagchi recreated A.R. Rahman's much-loved "Masakali" ("Delhi-6", 2009) for a music video featuring the actors of the film "Marjaavaan" (2019). Without any reference to the recreation, Rahman posted a link to his song on Twitter along with a message – "Enjoy the original #Masakali". He further elaborated in an image in the tweet – "No short cuts, properly commissioned, sleepless nights, writes and re-writes. Over 200 musicians, 365 days of creative brainstorming with the aim to produce music that can last generations. A team of a Director, a Composer and a Lyricist supported by actors, dance directors and a relentless film crew.". Prasoon Joshi and Mohit Chauhan, Rahman's co-creators in the song, also supported the composer's stand. However, the music labels saw nothing wrong in trawling their back catalogues for easy hits. T-Series' Gulshan Kumar was an outspoken backer of this trend and even held music directors responsible for it. When told that Amit Trivedi had blamed music labels for the trend of recreated songs, Kumar responded, "Tell him to make songs that work with public.".
Listeners also seemed to be divided on the issue. On one hand, the trend was periodically run down by music lovers on social media. On the other, recreated songs consistently found a place on the music charts. The Mirchi Top 20 of 2019, for example, featured as many as 7 recreated songs – "Coca Cola" and "Duniya" from "Luka Chuppi" (2019), "The Jawaani Song" ("Student Of The Year 2", 2019), "O Saki Saki Re" ("Batla House", 2019), "Bala Bala Shaitan Ka Saala" ("Housefull 4", 2019), "Meri Gully Mein" ("Gully Boy", 2019), and "Ankhiyon Se Goli Maare" ("Pati Patni Aur Woh", 2019).
The public reaction to recreated songs was delightfully captured in two Hindi film songs. In "Aankh Maarey" ("Simmba", 2018), a recreated version of a song from "Tere Mere Sapne" (1996), co-producer Karan Johar made a cameo appearance to make a tongue-in-cheek remark, "Oh God! One more remix?!". He made a similar appearance again in the song "Chandigarh Mein" ("Good Newwz", 2019), this time with the line "Oh my God! This is original?".
[Get the BollySwar e-book for more such analysis: Amazon India, Amazon US, Amazon UK]