Shailendra is regarded as one of the best lyricists Hindi films have produced. While many of his peers were regarded as poets who also wrote lyrics for Hindi film songs, Shailendra set himself apart with his commitment to the medium. His ability to connect with film audiences with simple but impactful words was unparalleled. Considering that he started off as a dedicated member of the leftist Progressive Writers' Association who looked down on the commercial world of cinema, his transformation from an idealistic poet to the consummate lyricist was remarkable.
Shailendra died an untimely death almost half a century ago on December 14, 1966 but his songs are timeless. To commemorate his death anniversary, I pick 10 films that showcase his brilliance. Given the large number of films he did with Shankar – Jaikishan, I've normalized the list to accommodate his work with other music directors.
Shailendra first met Raj Kapoor at a kavi sammelan. Raj Kapoor asked him to write a song for "Aag" (1948) but not wanting to sell his poetry, Shailendra declined. Later when Shailendra's wife developed a medical complication, he approached Raj Kapoor for financial assistance and got Rs. 500 from him. When Shailendra went to Raj Kapoor to return the loan, he refused the money and asked him to give him two songs instead. It was in these circumstances that Shailendra started working for Hindi films. The resounding success of Barsaat coupled with the fantastic chemistry of the team consisting of Raj Kapoor, Shankar – Jaikishan, Shailendra and Hasrat Jaipuri established a winning formula that ruled Bollywood for several years. My pick from the film – "Barsaat Mein Humse Mile Tum Sajan".
There are a few stories recounting how easily his songs' words came to Shailendra. My favorite story is the genesis of the title song of "Awara". In a script narration session by K.A. Abbas, Shailendra was in attendance along with Raj Kapoor. K.A. Abbas ignored the relative newcomer, Shailendra, for the two-plus hours of narration. After the narration was over, Raj Kapoor asked Shailendra, "Kuch samajh mein aaya, kaviraj?". Pat came Shailendra's reply "Gardish mein tha par aasmaan ka taara tha. Awara tha.". His response left Raj Kapoor and K.A. Abbas awe-struck and formed the essence of not just film's title song but Raj Kapoor's onscreen persona of the good-hearted tramp. Such was the song's appeal in Russia that it found a mention in Aleksandr Solzhenitsyn's "Cancer Ward".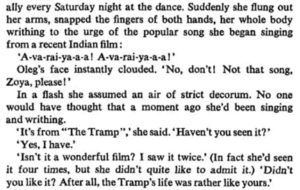 Raj Kapoor may have modeled his on-screen characters on Charlie Chaplin's tramp but Shailendra's songs were those characters' soul. Shailendra's unpretentious words for "Mera Joota Hai Japani" told Raj's philosophy of life in a manner that rang true with audiences and had them humming the song long after they left the theatres. Over the years, the song took on a deeper meaning – of harmony despite differences and of staying true to our roots. With the growth of the Indian diaspora and due to its popularity in other countries, the song's stature has grown over the years. Even the cesspool that is YouTube's comments section, takes a refreshingly positive turn with people from all over world waxing eloquent about the song.
Other than Shankar – Jaikishan, the other music director with whom Shailendra had a successful relationship was Salil Chowdhury. Their partnership started with Salil Chowdhury's debut fillm "Do Bigha Zamin" (1953). Salilda was widely respected but commercial success eluded him through films like "Naukri" (1954), "Jagte Raho" (1956) and "Musafir" (1957) but their partnership survived. Salilda persisted with Shailendra for "Madhumati" (1958) and this time he got his due. This magnum opus of an album is filled with delightful songs and considered as one of the best Hindi film albums ever. To get a sense of the level at which Shailendra was operating in 1958, consider the fact that despite his excellent work for "Madhumati" and even though "Madhumati" won Salilda and Lata Mangeshkar Filmfare awards that year, Shailendra received two nominations for a different film that year – "Yahudi". He won the Filmfare Award for Best Lyricist for "Yeh Mera Deewanapan Hai". My pick from "Madhumati" is the iconic "Suhana Safar Aur Yeh Mausam Hasin". This is another Shailendra song that transcended the literal and became a metaphor for the journey of life.
"Anari" may not have been an RK Film production but with Raj Kapoor in another role of a likeable, ordinary man, it had all the sensibilities of one. With the film winning Filmfare awards for Shankar – Jaikishan, Mukesh and Shailendra, Raj Kapoor's music team demonstrated once again why they were such a potent force in the industry. My Shailendra pick from the film, however, isn't the award-winning "Sab Kucch Seekha Humne" – the film's "character song", but the "philosophy of life song" – "Kisi Ke Muskurahaton Pe Ho Nisar". Like many Shankar – Jaikishan songs, this superb melody woven around accordions, strings, mandolin and whistles was conceived in the background score on an earlier RK Film, "Shree 420".
My pick of "Chhote Nawab" in this list is perhaps an anomaly and a reflection of my bias for R.D. Burman's music. In my defence, this Pancham album is worth surfacing for its severely underrated gems and some uncharacteristic Pancham tunes. Shailendra excelled in the use of dialects that went very well in classical as well as folk-based songs. My pick from "Chhote Nawab" is one such song – "Ghar Aaja Ghir Aaye". This was Pancham's first song for Hindi films – he had composed it for an earlier film, "Raaz", which got shelved. Pancham's Raag Malgunji based melody is beautifully complemented by Shailendra's musical lyrics. Ordinary phrases like "dhak dhak", "tap tip" and "kas mas" have never sounded this pretty. Lata, of course, sings the song like only Lata can. It is said that it was this song that started the process of reconciliation between S.D. Burman and Lata Mangeshkar, who had stopped working with each other for some time.
S.D. Burman and Shailendra partnered a number of times starting with "Buzdil" (1951) but somehow each album, with the possible exception of "Kala Bazar" (1960), was lesser than the sum of their greatness.  That changed in 1963 with two stellar albums – "Bandini" and "Meri Surat Teri Aankhen". Unfortunately, while "Bandini" saw Lata Mangeshkar walking back into S.D. Burman's recording studio after six years, it also resulted in a brief tiff between Dada Burman and Shailendra. There was a silver lining though. The selfless human being that he was, Shailendra, on his way out of the film after writing six songs for it, helped Gulzar get a chance to write a song for "Bandini" and thus began the career of another great lyricist. My pick from "Bandini" is the poignant climactic song sung by S.D. Burman, "Mere Saajan Hain Us Paar".
Door Gagan Ki Chhaon Mein (1964)
Among the wide variety of themes Shailendra wrote lyrics to, the theme that stands out for me are his songs about life and the spirit of those songs – determined, positive, hopeful. This spirit is at its brightest in Kishore Kumar's title song of "Door Gangan Ki Chhaon Mein". Kishore's lullaby-like music, Hemant Kumar's soothing voice and Shailendra's warm lyrics are beacons of hope for lost souls.
After a break of two years, S.D. Burman and Shailendra came together again for "Guide". It was a quirk of fate that made this happen. The Anand brothers had engaged Hasrat Jaipuri for the film but turned to Shailendra when they were disappointed by the lyrics of the opening lines he offered for "Din Dhal Jaye". Miffed at being the second choice, Shailendra quoted a fee that was very high for the time. The Anand brothers acquiesced and had the lyrics for the mukhda of "Gaata Rahe Mera Dil" by the end of the meeting. For the first time, S.D. Burman and Shailendra created a film album that truly reflected their combined greatness. Many consider "Guide" as the most iconic Hindi film soundtrack. My pick from the film is the song that Hasrat started (the first line is his) and Shailendra completed. Rafi's voice is a lovely as it has ever sounded in a film song.
Shailendra turned producer with "Teesri Kasam". Fascinated by Phanishwar Nath Renu's short story "Maare Gaye Gulfam", Shailendra decided to make a film based on it and brought on board as director the man who had introduced him to the story, Basu Bhattacharya. The film won him the National Film Award for Best Feature Film and went on to be considered a classic. Sadly, Shailendra did not live to enjoy his accomplishments. The challenges he faced during the film's making and it's poor reception broke his spirit and he passed away soon after the film's release. For his own production, Shailendra took help from his long-time associate Hasrat Jaipuri, who wrote three of the ten songs in the film. In his songs for the film, Shailendra brought in the texture of Hindi dialects with songs like "Chalat Musafir" and "Sajanwa Bairi". My pick is the more accessible "Sajan Re Jhooth Mat Bolo" – another superb, philosophical take on life by Shailendra.
It's impossible to distill greatness in ten songs so I'll end this post with a much deeper list of Shailendra's best songs.
Bonus: "Chali Kaun Se Desh" ("Boot Polish", 1953) has one of Shailendra's few onscreen appearances. He plays the character singing this song.
[This post originally appeared here.]