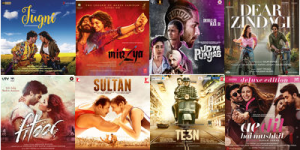 As in the past, critics were not happy with the state of Hindi film music in 2016. The charge – yet again – was that it Hindi films were using an "assembly line" approach to create songs using multiple composers and re-packaging hit songs from the past. One thing is certain – music is no longer crucial to the film's storytelling. This is not an entirely new phenomenon. A spurt of action films in 1970s/1980s had also rendered film music insignificant for a period. Increasingly, music is being seen as a means to promote the film. To the surprise of film audiences, songs that top the charts, end up being abridged in the film or part of the film's background score. Some don't even make it to the film.
That said, 2016 did have some bright spots. Towering above the rest was Shankar – Ehsaan – Loy's "Mirzya". Given a free rein by Rakeysh Omprakash Mehra, S-E-L packed the album with uninhibited experimentation. "Mirzya" pushed the boundaries of film music and then some. The other highlight of the year was Amit Trivedi's comeback after the brilliant, but commercially disastrous, "Bombay Velvet" (2015). He had three superb albums ins 2016 – "Udta Punjab", "Fitoor" and "Dear Zindagi". Pritam also did quite well in 2016 with "Ae Dil Hai Mushkil" and "Dangal" after a relatively lukewarm 2015. At the end of this post, we list the year's 20 top-rated songs. Here is a longer list of 2016's best Hindi film and non-film songs.
Some brilliant artists bode us farewell in 2016 – lyricist Nida Fazli, composers Ajit Varman and Omi (of Sonik – Omi), singer Mubarak Begum and Carnatic musician and vocalist M. Balamuralikrishna.
Some notable debuts in 2016 were:
Bollywood made 150 films with 872 songs between them in 2016.
The most prolific composers of the year were:
Vishal – Shekhar – 5 films, 34 songs
Amit Trivedi – 3 films, 24 songs
Clinton Cerejo – 3 films, 20 songs
Vishal – Shekhar compensated for their dry spell in 2015 (they didn't score any film that year) by being the most prolific composers in 2016. Unfortunately, the quality of their output didn't match the quantity. Amit Trivedi won 2016 with his consistency, creating 3 albums that won the hearts of music lovers. After staying in the sidelines for years, Clinton Cerejo finally had the spotlight shining on him with 3 films as solo music director (although "Jugni" did have one song by A.R. Rahman, I think it's fair to slot it as a solo Clinton album). It's interesting to note that Mithoon and Ankit Tiwari, who followed closely with 18 songs each, had more films to their credit in 2016 than the top 3 most prolific composers. It turns out that they happen to be part of multi-composer albums quite a lot.
The most prolific lyricists of 2016 were:
Kumaar has been on the most prolific list for some years now. It's amazing how little we know about a lyricist who's been as prolific as him. Manoj Mutashir's presence on the list was a surprise as well, with big name lyricists like Amitabh Bhattacharya and Javed Akhtar relegated to the third spot.
The most prolific male singers of 2016 were:
Arijit Singh – 48 songs
Vishal Dadlani – 23 songs
Armaan Malik – 18 songs
Unsurprisingly, and in my opinion, deservedly, Arijit Singh dominated the male singers list with more than double the number of songs sung by the next most prolific singer.
The most prolific female singers of 2016 were:
Sunidhi Chauhan – 22 songs
Palak Muchhal – 19 songs
Neha Kakkar – 18 songs
For some reason, two of my most favourite singers were conspicuously low key in 2016 – Shreya Ghoshal and Neeti Mohan. I hope they come back with a bang in 2017.
Based on the ratings of their 2016 songs, here are the best-rated artists of the year:
Composers: Amit Trivedi, Vishal – Shekhar, Clinton Cerejo
Lyricists: Amitabh Bhattacharya, Swanand Kirkire, Shellee
Male Singers: Arijit Singh, Vishal Dadlani, Amit Trivedi
And the top 20 songs of 2016: