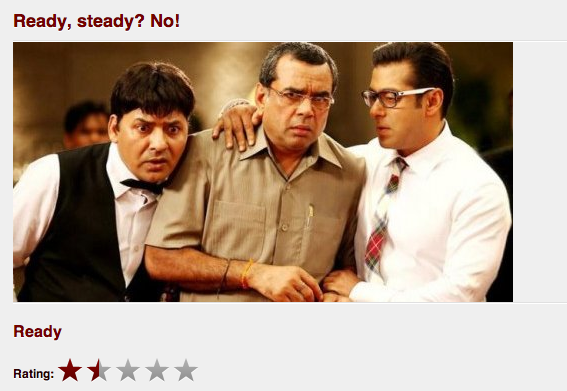 Stung by poor reviews of "Ready", and outraged Salman Khan asked – "Are my fans stupid?". My answer – Not all of them, but the truth is that there is no correlation between people's intellect and their taste. As the saying goes, "There is no accounting for taste".
I haven't seen "Ready" but a number of people (non-critics) told me they had a splitting headache after watching it. I also had some people tell me that it's an "entertainer". The box office numbers for "Ready" leave no doubt that it's a hugely popular movie. But based on what I have heard so far, it's also possible that "Ready" happens to be a lousy movie. How's that possible? Isn't popularity an indicator of good quality? Not always.
Bad products can become popular. What makes bad products popular?

Star appeal – Fawning fans can be extremely forgiving of poor quality.
Marketing – Marketing campaigns can make you believe a product is good, even if it's not.
Lack of options – If the market is full of mediocre products, products that suck less can become popular.
Titillation – Sometimes, an ordinary product can become popular by possessing a "leave your brain behind" quality that titillates but does not satisfy.

Good products are not always popular. Absence of star appeal, poor/no marketing and a competitive market can prevent a good product from becoming popular. Being unconventional can hurt a product too. If a product strays too far from the norm, people can find it difficult to accept it.
I may not agree with all the critics all the time but I believe they play the hugely important role (at least the good ones do) of assessing product quality. The distinction between good and popular would be lost on us, if it were not for critics.
Perhaps Salman Khan should not be concerned about what the critics say. After all, he (like some others of his ilk) is not really in the business of being good. He's in the business of being popular.
Or, he could consider the possibility that good can also be popular.